Andi Mancin, a Polish racing all-rounder focussing on America, Global RallyCross and X Games, has an almost 500bhp strong Fiat 500L 4WD SuperCar in the making.
It was known already for some time that Pole Andi Mancin is working on "something different", a four-wheel driven Fiat 500L Trekking for the 2014 Global RallyCross series and its featuring in the X Games event(s). The other day Mancin released on his Facebook the first picture of how the little SuperCar monster should look when it's ready. ERC24 was able to get the full set of livery images from his Polish designer Zbigniew Malczyk (Abstraxi). Enjoy!
The Fiat 500L Trekking RallyCross SuperCar is in the making. © Abstraxi/ERC24
The 500L Trekking is a 5-door Mini MPV [Multi-Purpose Vehicle], based on the design of the Fiat 500. © Abstraxi/ERC24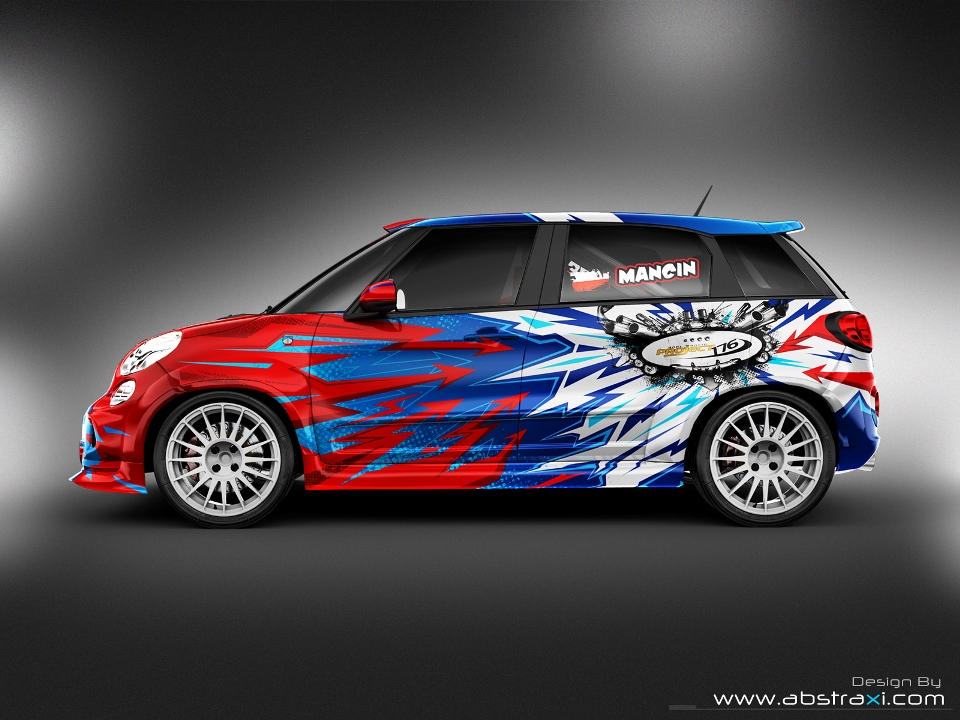 The L of the 500L stands for Large, the Trekking version is about 700mm longer and a little wider than the Fiat 500. © Abstraxi/ERC24
It seems the 500L will be powered by a 1750cc engine, then having a weight advantage against the 2.0 litre cars. © Abstraxi/ERC24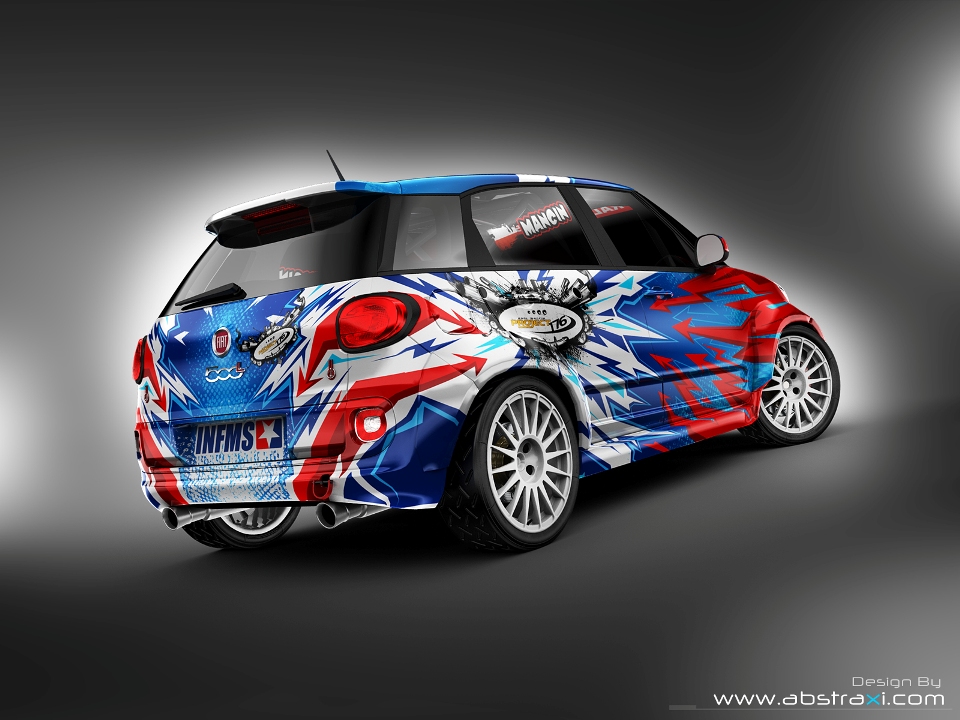 Something different… © Abstraxi/ERC24
An Italian-Serbian-Polish co-production. © Abstraxi/ERC24
Andrzej "Andi" Mancin is a 36 years old Pole (DOB 06.12.1976), his father is an Italian. Living for some years in his father's native Italy Andi, as a teenager, went a lot of times from his home near Turin to Monza for watching car races at the famous 'Autodromo Nazionale Monza' track. After taking the decision to try his own hands at motorsport he raced in Karting events and from 2004 on in Car Racing. In 2005 Mancin took up Rallying, later taking also part in three WRC rounds, Rally Sweden (2006), Rally Monte Carlo (2007) and Rally Finland (2007). In 2008 he started competing in US events, doing a full 'Rally America' season in 2009. With his Mitsubishi Lancer Evo 9 he raced also in the 2009 X Games, while in the Twin Peaks round of the 2011 Global RallyCross Championship at Snoqualmie (WA) his spectacular 'Gap Jump' crash (see video clip below) made him widely known among the YouTube fans. Beside racing all kind of vehicles with four wheels Mancin is a keen snowboarder, snowmobiler, ice-hockey player and motocrosser.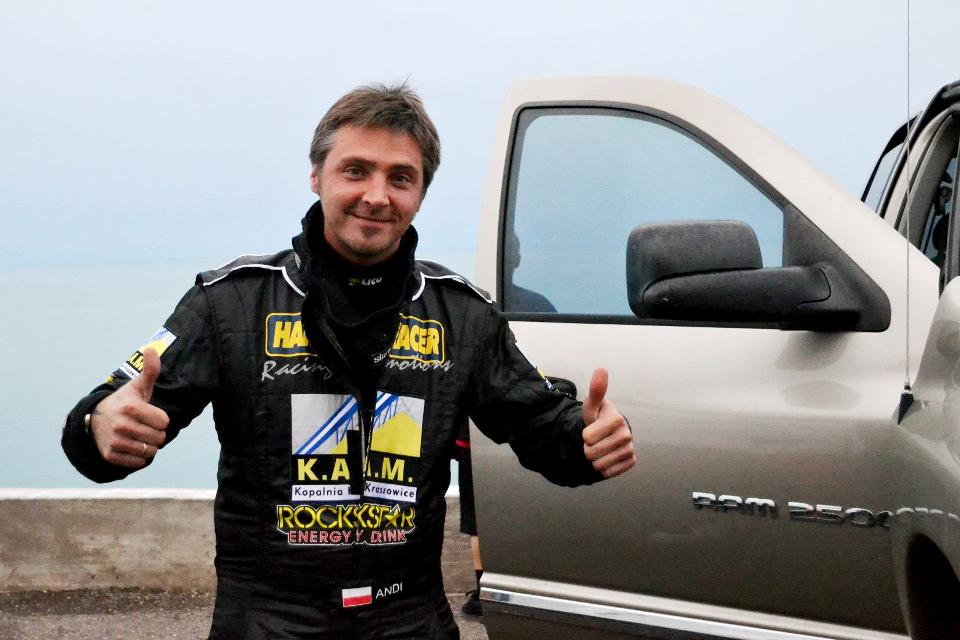 "Thumbs up!" for Mancin. © Andi Mancin Facebook/ERC24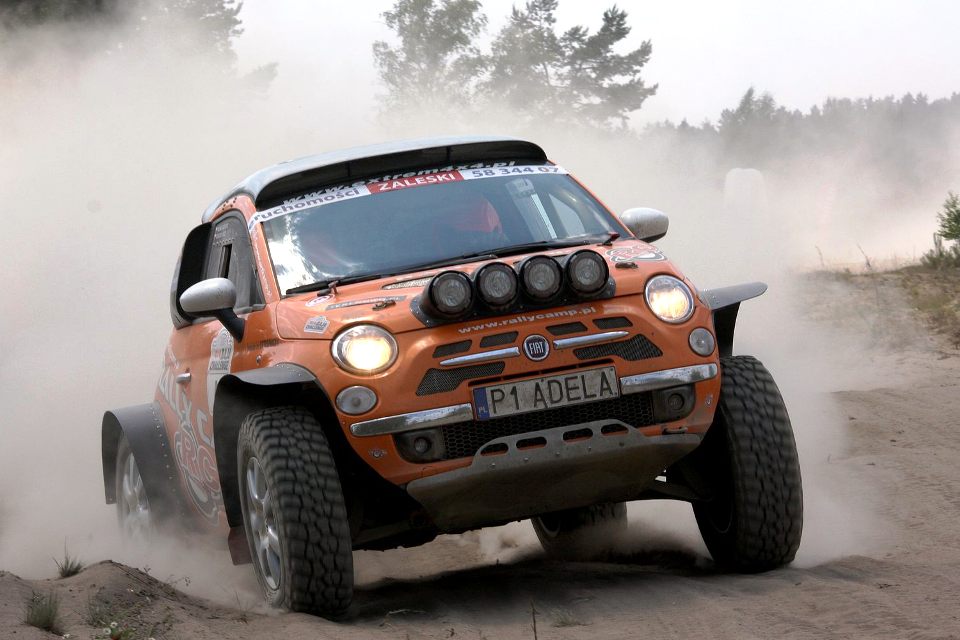 Already used to the little Fiat as Mancin is currently doing Off-Road events with the shorter 500 version. © Project 176/ERC24
Mancin's big crash (from 1:55) during the 2011 GRC Twin Peaks round at the Old Mill Adventure Park in Snoqualmie, Washington.