Mattias Ekström has added Spain to his list of 2016 wins, and in doing so taken a ten-point lead on fierce rival Petter Solberg. A dominant weekend display from Timmy Hansen earns him a second place finish with Johan Kristoffersson taking third.
Mattias Ekstrom has won in Spain. The Swede takes the round win from the hands of Timmy Hansen, who had produced a dominant display throughout the weekend's qualifying at the Circuit de Barcelona-Catalunya.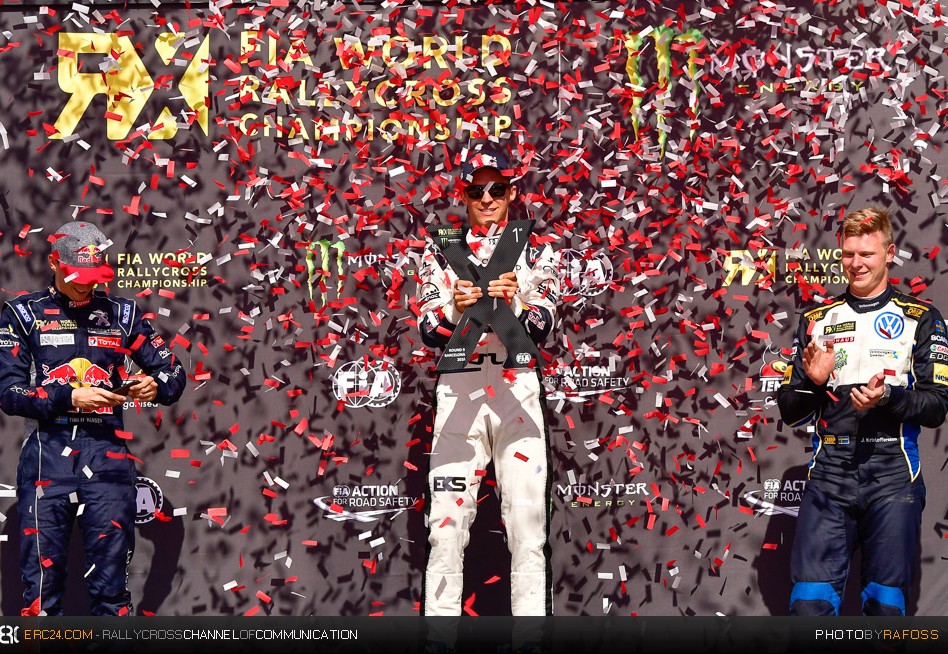 Ekstrom had finished qualifying in third position. An all Swedish top three led into the weekend's semi-finals with Timmy Hansen leading from Johan Kristoffersson. Andreas Bakkerud took fourth with Sébastien Loeb and Toomas Topi Heikkinen finishing fifth and sixth.
In the final, it was Ekstrom who got away fastest, heading into turn one with a slight advantage over the Russian Timur Timerzyanov. The EKS driver covered both turns one and two well, blocking off the pacey Johan Kristoffersson from behind. By the time lap one was done, a combination of the tight Barcelona track, and brilliant circuit driving had Ekstrom take a clear lead into lap two. A joker by Johan Kristoffersson saw Timerzyanov jump up to second place, with Ekstrom continuing to gain ground. In the meantime, Timmy Hansen continued to put pressure on Timerzynov, eventually passing the Russian upon entry to his joker at the end of the fourth lap. Timerzyanov took advantage of a good exit, to pull out of the slip stream of the Swede Kristoffersson, and passing him into lap five.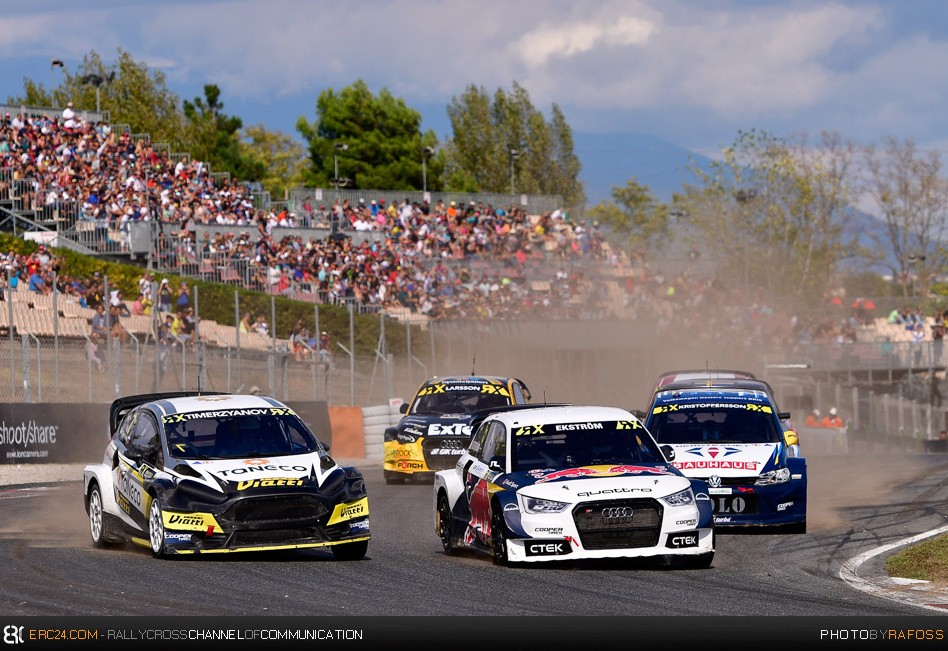 The final lap produced yet more tight joker lap action. Ekstrom first fought off Timerzynav to regain the lead, with Hansen following, and squeezing through in pursuit of Ekstrom to hold second place. A last ditch effort to pass Hansen forced a mechanical error to Timerzyanov's car, and with Kristoffersson pressuring, Timur was edged out. The Russian driver held on to finish fourth, as Ekstrom crossed the line. Timmy Hansen and Johan Kristoffersson followed the Swede.
With a tightly fought weekend in Spain conquered by the Swede, four season wins have placed the 2016 title back in the hands of Ekstrom. A ten point lead is held as we edge closer to round ten in Latvia.
Final Results in Barcelona…
1. Mattias EKSTRÖM
2. Timmy HANSEN
3. Johan KRISTOFFERSSON
4. Timur TIMERZYANOV
5. Janis BAUMANIS
6. Robin LARSSON
*AMENDED RESULTS:
Stewards Decision: Johan Kristoffersson is excluded from the final with a black flag for unfair contact on Timur Timerzyanov.
1. Mattias EKSTRÖM
2. Timmy HANSEN
3. Timur TIMERZYANOV
4. Janis BAUMANIS
5. Robin LARSSON
6. Johan KRISTOFFERSSON