The young prince of the Hansen dynasty, took the first steps toward building the next reign of success as he claimed the 2016 FIA European Rallycross championship under the watchful eyes of his 14-time european champion father, Kenneth.
Yesterday, in the 2016 FIA European Rallycross Championship Kevin Hansen secured himself his first European title. Another near perfect display, which consisted of a TQ classification, a semi-final win, and a win in the final. Norwegians Tommy Rustad and Tord Linnerud finished in second and third, joining Kevin on the podium.
Speaking after, Kevin reflected: "It's incredible to have won the title! I grew up in the paddocks of the European Rallycross Championship and it's something I've dreamt of ever since I was a kid. There couldn't have been a better way to make that dream come true than by winning every one of the four rounds to date! Being the youngest ever champion is the icing on the cake. It hasn't really sunk in yet, but it won't stop me from trying to add a fifth victory at the final round. I will be under less pressure there and you can be sure that I will give it my very best shot!"
A win in the penultimate round of the ERX season, and the fourth consecutive round win in a row, cap off a dominant season by the young Swedish driver. And perhaps whats more impressive is the consistency that Kevin Hansen has produced. The Swede was also TQ in the last three rounds, the exception being a third fastest qualifying finish in Belgium – then behind Jerome Grosset-Janin and Tord Linnerud.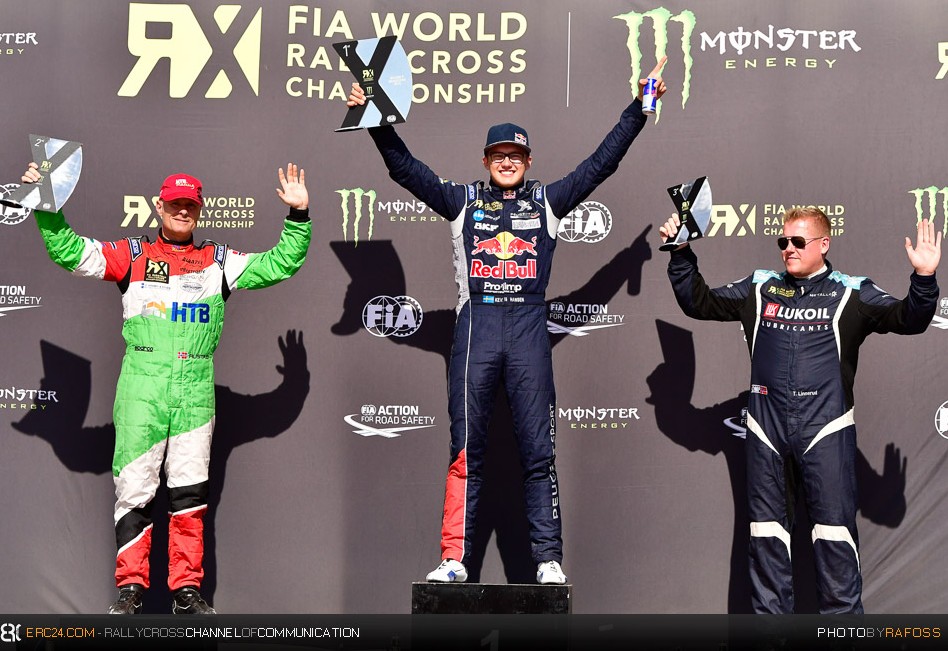 Despite being a shorter season than many of his fathers championship wins, Kevin Hansen breezed to the 2016 ERX title – and will surely look to compete in the WRX in 2017.