Mattias Ekström is ahead at the Estering in Buxtehude after two rounds of qualifying in Germany at the penultimate round of this season's championship – taking a massive step towards gaining the World title.
EKS driver, the Swede Mattias Ekstrom leads the overnight standings in Germany, after a third fastest drive in Q1 and a resounding win in Q2. Ekstrom broke the deadlock in Q2, the only driver to record a sub 02:34 race time in somewhat changing conditions at the Estering.
In a wet Q1 – the World RX Team Austria driver Janis Baumanis was the surprise winner. The Latvian driver, a fourth place finisher at his home event at the last round, narrowly beat both EKS drivers to the top spot. Toomas Heikkinnen and Ekstrom finished second and third – with Andreas Bakkerud fourth. The two Audi Quattro drivers entered Q1 having driven the fastest laps during open practice, and look at home with a perfect setup in Buxtehude. Title challenger Petter Solberg had also looked quick during the practice session, but failed to carry that pace through to Q1.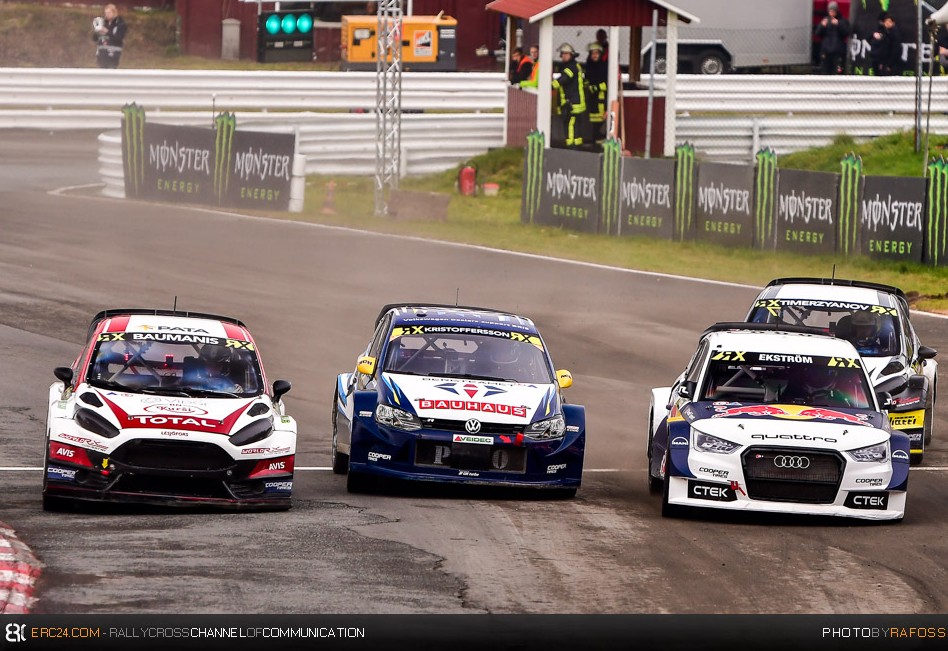 Top six in Q1:
1. Janis BAUMANIS
2. Toomas HEIKKINEN
3. Mattias EKSTRÖM
4. Andreas BAKKERUD
5. Johan KRISTOFFERSSON
6. Timmy HANSEN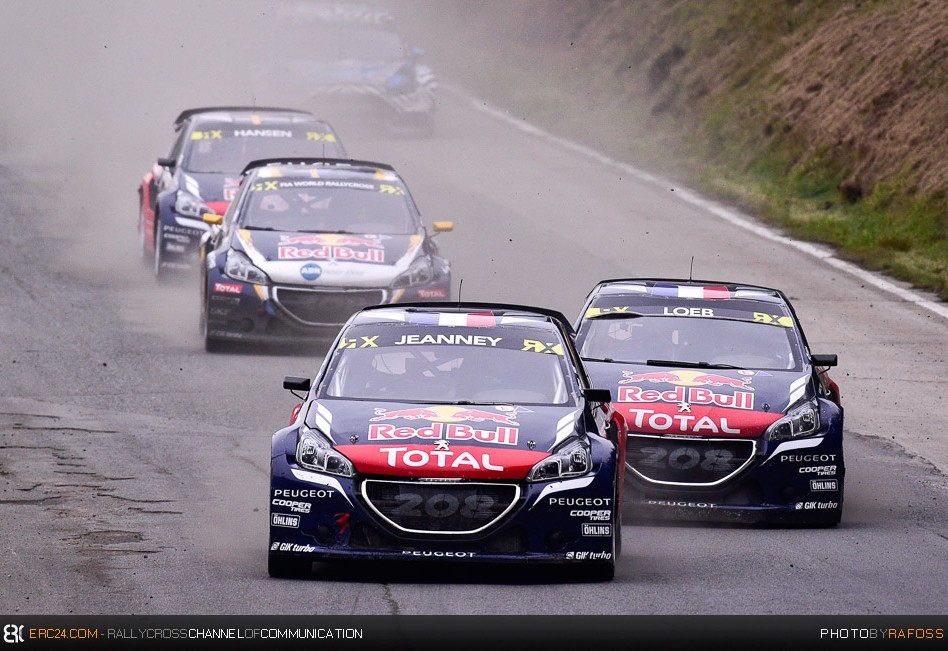 Q2 saw Esktrom make a return to the top. The Swede was in a different league, and has put himself in prime position for the event's second day. "The car was amazing. Time for food and a good sleep now," said Ekstrom. Back at the top was the Frenchman Jeanney. The Peugeot driver, who gained a podium finish in Germany last season finished second in Q2. It also didn't take too long to see Petter Solberg make a return to challenge and remind Ekstrom that the title isn't his just yet. Solberg finished third. Baumanis was able to keep the pace that had won him Q1, with Rally legend Sebastien Loeb finishing fifth fastest, after his win in Latvia two weeks ago. Andreas Bakkerud made up the top six.
Top six in Q2:
1. Mattias EKSTRÖM
2. Davy JEANNEY
3. Petter SOLBERG
4. Janis BAUMANIS
5. Sébastien LOEB
6. Andreas BAKKERUD
Top six after two rounds of qualifying:
1. Mattias EKSTRÖM
2. Janis BAUMANIS
3. Davy JEANNEY
4. Andreas BAKKERUD
5. Toomas HEIKKINEN
6. Johan KRISTOFFERSSON