Both Bakkerud and Kevin Hansen secure pole in their respective classes, with clean sweeps of Hell qualification, as we head in this afternoon's semi-finals and final.
Hoonigan Racing driver Andreas Bakkerud is top of the qualification in Hell.
The Norwegian has won all four rounds of qualifying at his home event. Despite a drop-off in pace in Q4, it is the Russian Timur Timerzyanov who is Bakkerud's closest challenger. A star-studded lineup completes the top six – with the Frenchman Loeb, reigning champion Petter Solberg, and last year's winner Timmy Hansen securing the top five WRX drivers. Lydden Hill winner and current points leader Mattias Ekstrom sixth fastest.
Top 12 WRX Supercars after Qualification:
1. Andreas Bakkerud
2. Timur TIMERZYANOV
3. Sébastien LOEB
4. Petter SOLBERG
5. Timmy HANSEN
6. Mattias EKSTRÖM
7. Johan KRISTOFFERSSON
8. Janis BAUMANIS
9. Toomas HEIKKINEN
10. Robin LARSSON
11. Reinis NITISS
12. Davy JEANNEY
In the ERX, like Bakkerud – Kevin Hansen has taken a clean sweep of Hell qualification. The Swedish Peugeot campaigner beat Hungarian Tamas Pal Kiss to the top spot in Q3 and Q4, following on from his TQ position after day one.
Norwegian home driver, and Albatec competitor Tommy Rustad took third fastest in Q3 and 4 to secure third overall, with Fredrik Salsten finishing fourth overall after a fifth fastest in Q3 and fourth in Q4.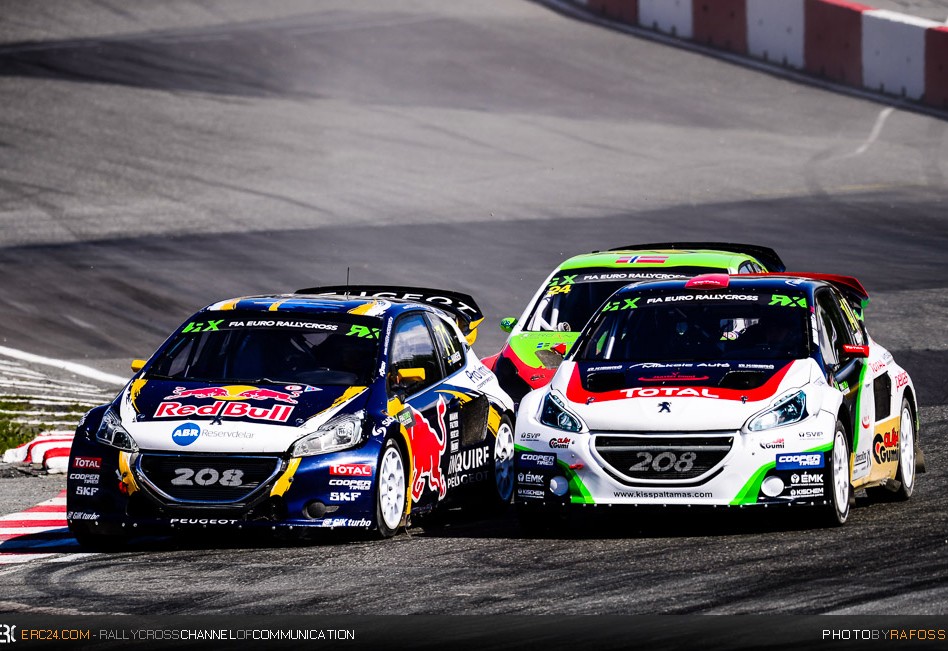 Top 12 ERX Supercars after Qualification:
1. Kevin HANSEN
2. Tamas-Pal KISS
3. Tommy RUSTAD
4. Fredrik SALSTEN
5. Jérôme GROSSET-JANIN
6. Tord LINNERUD
7. Peter HEDSTRÖM
8. Martin KACZMARSKI
9. Joni-Pekka RAJALA
10. Krzysztof HOLOWCZYC
11. Oliver O'DONOVAN
12. Mats ÖHMAN
Semi-finals and Finals underway in Hell next…