Andreas Bakkerud has won the sixth round of the WRX – the World of Rallycross of Sweden, his second consecutive win and both of this season's Scandinavian events. The Hoonigan Racing driver takes the round from teammates Loeb and Hansen.
Bakkerud has taken victory in Sweden, in front of 44400 spectators. The Norwegian takes the round win, overthrowing Holjes rule from Mattias Ekstrom who took the event over the last two seasons.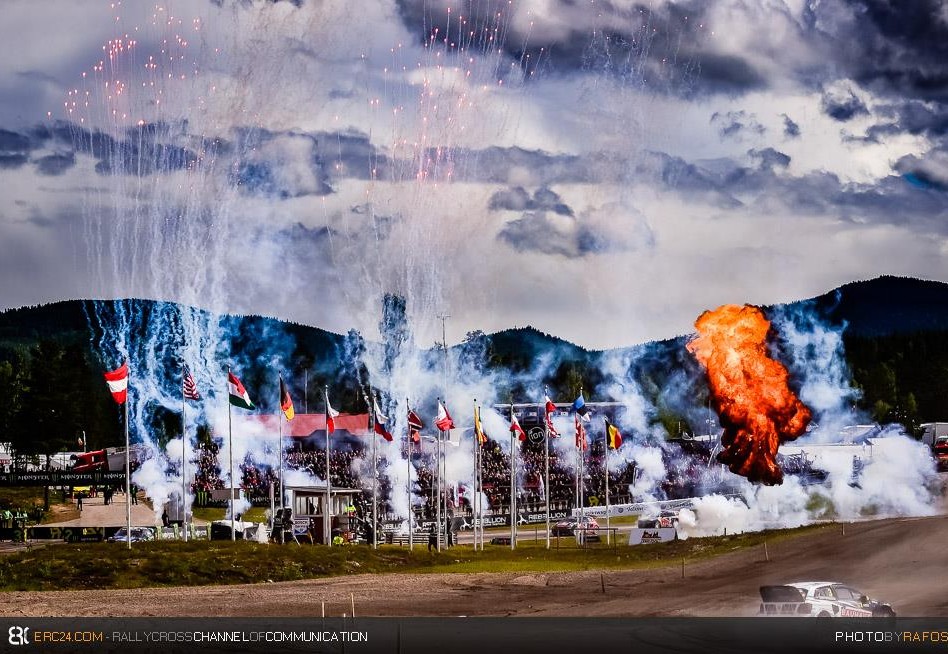 The final saw Timmy Hansen take the early lead, pulling away from Bakeurud on the outside. Anton Marklund flying, moved up into second, with Bakkerud opting to take his joker-lap; and exiting in extremely good time to exit pushing hard behind Loeb.
Points leader Ekstrom was left held up at the back of the pack, whilst Bakkerud continued to hassle Loeb. Hansen has maintained his lead, but was left unable to make up good ground, and as the race developed it was clear that his joker-lap would cause him to lose his grip on the race. Inevitably, Hansen's joker on the last lap opened up the gap for Bakkerud to lunge out infront. Like last season's final, Hansen kept tight and pressured the race leader as the race neared its final corners. But Bakkerud was wise to his relentless attacks, blocking any passes. The Norwegian crossed the line victorious with huge 'Baby Blue' support.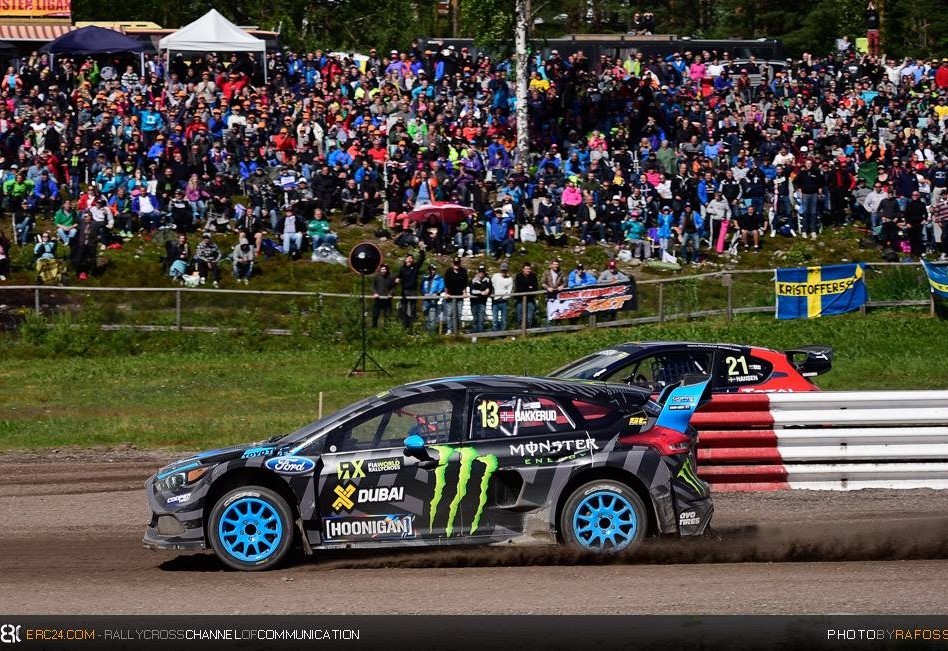 Hansen's entry into the last bend seemed certain to provide him a well earned second but the lock of his tyres saw teammate Loeb squeeze through the gap to gain second.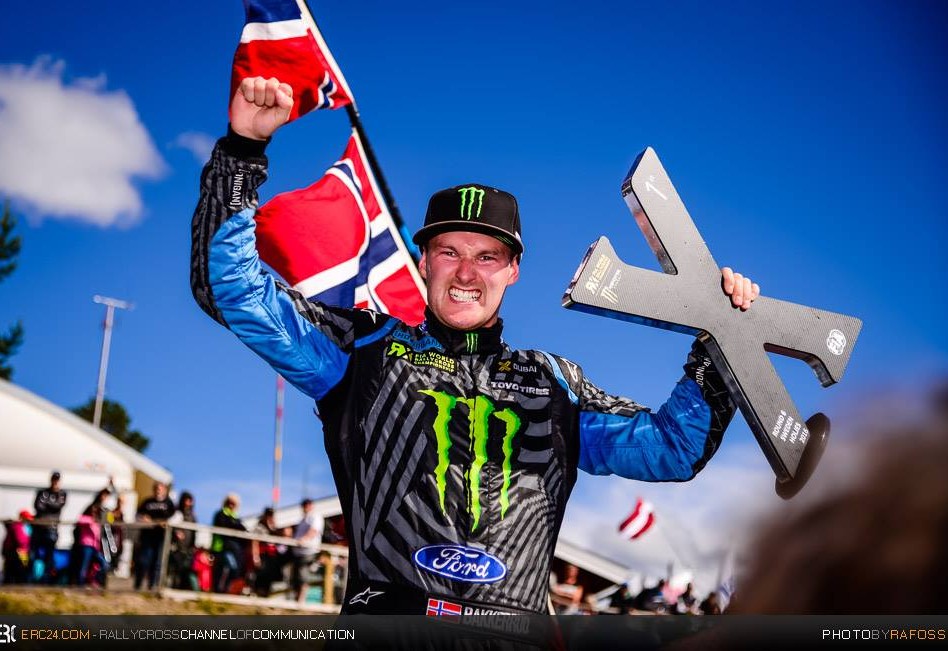 1. Andreas Bakkeurd
2. Sebastien Loeb
3. Timmy Hansen
VW Sweden's Johan Kristoffersson had been confirmed as top qualifier in Holjes. Having led overnight, Kristofersson continued to impress despite changing weather conditions. Bakkerud held second, with reigning champion Petter Solberg winning in Q3 and third in Q4 to seal his position in the semi-finals.
But Timmy Hansen's aggressive style in Holjes was too much for fellow Swede's Kristoffersson and Ekstrom, with the Peugoet-Hansen driver winning semi-final 1 having started at the back of the grid. A late weekend qualifying surge by Solberg looked positive, but the Norwegian missed out on a place in the final, finishing fourth in SF1.
1. Timmy HANSEN
2. Johan KRISTOFFERSSON
3. Mattias EKSTRÖM
Semi-final 2, saw Andreas Bakkerud take the race win from Sebastien Loeb and Anton Marklund. Marklund like Hansen started on row 3, and put in an impressive display in the final. But a start to race finish in SF2 by Bakkerud had shown that when it mattered Bakkerud he was unstoppable.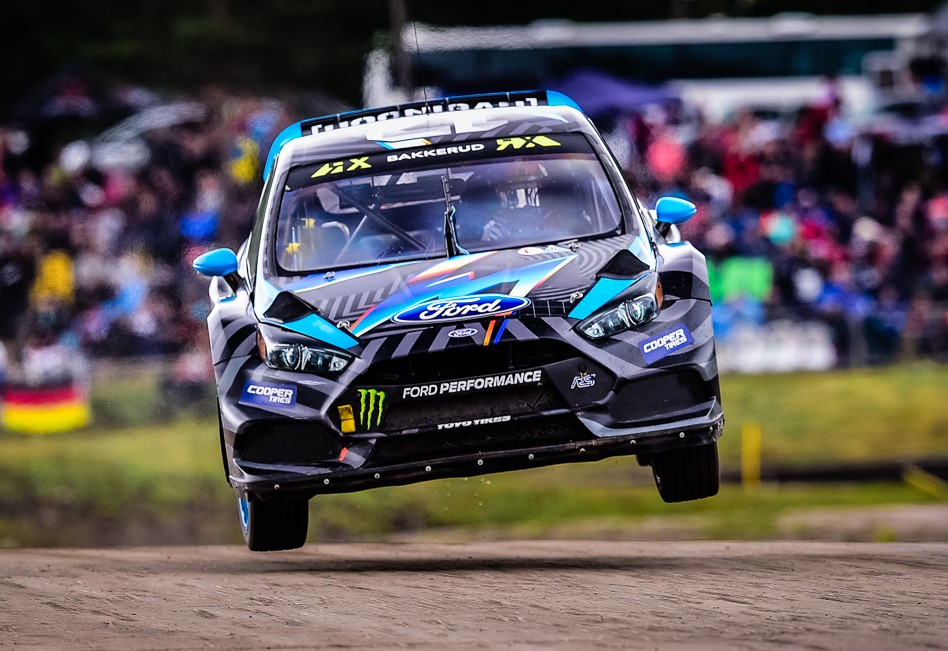 The championship returns to Canada in a months time.